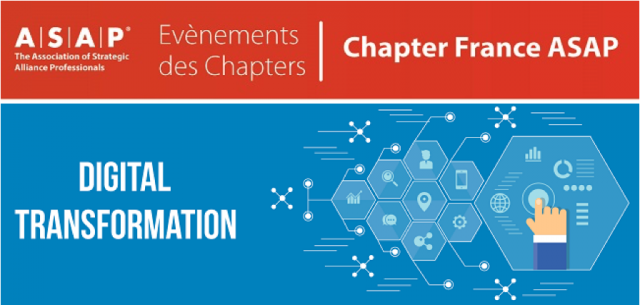 Alliances in the Digital Ecosystem
Wednesday, June 19, 2019
18:00 CET – 21:00 CET
Please join us for a panel discussion followed by case study exercises
Digital transformation is more than getting in on the latest trends.  It cannot be undertaken in a vacuum, and must be relevant to your business, with real business goals behind it. It is tough, hard work, and if you do not have support of the entire organization, it is easy to get off track.  Digital transformation can be a rogue activity, but it ultimately needs to be an enterprise-wide initiative.
In this perspective are partnerships changing in the Digital Transformation Age?
Are the requirements for selecting a strategic partner changing?
During our session, representatives of the high-tech industry sector (namely healthcare and air/space) currently facing this global change where a digital transformation plays a crucial role, will share their experience and methodology in nurturing  the best digital ecosystem that makes sense to their business.
Some pure digital players will also testify on how the effective digital transformation brings new energy to the business and creates momentum and support within the enterprise to reach a new level of performance.
PANELISTS
Marion ROY

Head of Alliance Management Operations

SANOFI

Colette BOULOUMIE

Digital Alliance Management, Global Alliance Management, Strategy & Business Development

SANOFI

50, rue Carnot
92284 Suresnes Cedex

ASAP Members – Free

Non-Members – $40

Registration is required
For questions about the event

please contact:

Guillaume Rouland