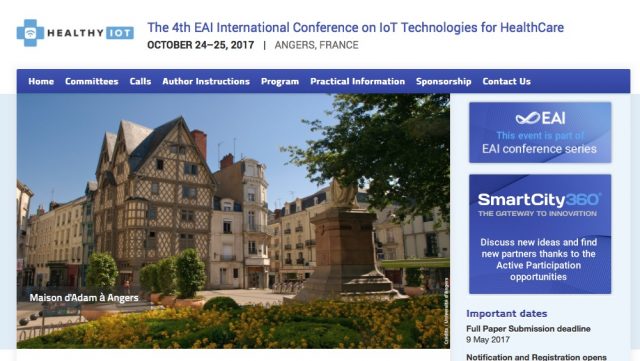 HealthyIoT 2017
October 24-25, 2017 Angers, France
Endorsed by the European Alliance for Innovation Keynotes:
CALL FOR PAPERS 4th International Conference on IoT Technologies for HealthCare http://healthyiot.org/2017/show/keynotes
Scope
HealthyIoT 2017 is the fourth one of an international scientific event series dedicated to Internet of Things and Healthcare. The Internet of Things, as a set of existing and emerging technologies, notions and services, can provide many solutions to delivery of electronic healthcare, patient care and medical data management. HealthyIoT aims to
Bring together technology experts, researchers, industry and international authorities contributing towards the assessment, development and deployment of healthcare solutions based on IoT technologies, standards and procedures.
Highlights
The event is endorsed by theEuropean Alliance for Innovation, a leading community-based organisation devoted to the advancement of innovation in the field of ICT.
All accepted papers will be submitted for publication in Springer and made available through SpringerLink Digital Library, one of the world's largest scientific libraries.
Proceedings are submitted for inclusion to the leading indexing services: EI, ISI Thomson's Scientific and Technical Proceedings at Web of Science, Scopus, CrossRef, Google Scholar, DBLP, as well as EAI's own EU Digital Library (EUDL).
Best papers will be invited to publish in theEAI Endorsed Transactions on Pervasive Health and Technology
The conference will include a number of supporting workshops (a call for workshops will be made).
Topics
You are invited to submit high-quality papers in the following topics (but not limited to):

Wearable Sensor Systems
Medical and Sensor Data Stream Processing
Signal Processing and Analysis
Machine Learning for Signal Processing
Emerging eHealth IoT Applications
Network Communications for Health Sensor Data
Quantified Self Devices & Technologies
Processing of Quantified Self Data
Cloud Technologies for Healthcare
Intelligent Data Processing and Predictive Algorithms in eHealth
Smart Homes and Smart Caring Environments
Telemedicine Applications
The Smartphone as a HealthyThing
Wellness and Health Management Applications
Data Mining of Health Data on the Cloud
Medical and Sensor Data Stream Processing
Security, Safety and Privacy in eHealth and IoT
Interoperability and Standardization Issues in IoT and Healthcare
Network Communications for Health Monitoring
Mobile Sensing and Smartphone Sensing
Wireless Sensor and Actuator Networks
Sensor Network Operating Systems and Resource ManagementPublicationThe proceedings are submitted for inclusion to the leading indexing services: DBLP, Google Scholar, Thomson Scientific ISI Proceedings, EI Elsevier Engineering Index, CrossRef, Scopus, as well as ICST's own EU Digital Library (EUDL).Paper Submission
Regular Papers should be up to 6 pages in length. Short papers up to 4 pages in length. Complete formatting and submission instructions are available here.
Submissions will be reviewed anonymously by at least three expert reviewers.
Papers will be judged on originality, correctness, clarity and relevance. Submittedpapers must be original work, and may not be under consideration for anotherconference or journal.
Submission of the paper implies agreement of the author(s) to attend theconference and present the paper if accepted.Important Dates

Full Paper Submission deadline 09 May 2017

Notification and Registration opens 27 June 2017
Camera-ready deadline 7 August 2017
Start of Conference
24 October 2017
End of Conference
25 October 2017